Your central project file manager
The Automotive File Explorer (AFE) is a universal system that can read, edit, write, convert and display easily understandable common file formats of the automotive industry.
AFE is like a swiss army knife among development tools. It is small, pragmatic, flexible and affordable. It is a tool for every development team, requires no expertise and presents machine-generated content in a human-readable way.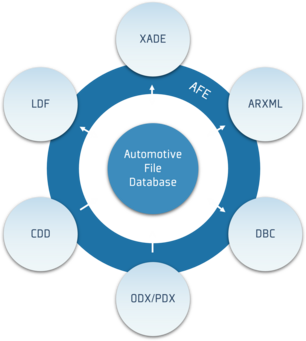 With the Automotive File Explorer it is possible to use and merge old and new file formats.
This eliminates compatibility problems.
AFE is an application of the Automotive File Database. It processes all common file formats of the automotive industry.
The implementation of further formats is already planned, but we also respond to customer-specific requests via our ServiceDesk.
Our tools CanEasy & Automation & Testing Suite also use the Automotive File Database as a generic library and central service.
XML Automotive Data Exchange (XADE)
XADE is our
• self developed,
• XML-based,
• open
exchange format.
It removes the dependency on all kinds of formats and transports bundled data into our customers' tools.
The Automotive File Explorer is applicable in the following areas of development:
AFE uses the Automotive File Database library and provides user interfaces to explore vehicle files. Therefore it is possible to extract:
ECUs
Function classes
Diagnostic services
Message parameters
Multiplexer
Value tables
Diagnostic fault codes
Negative response codes
Documentation
Flash containers
Diagnostic libraries